On this page we keep you updated on the latest news and seasonal trends.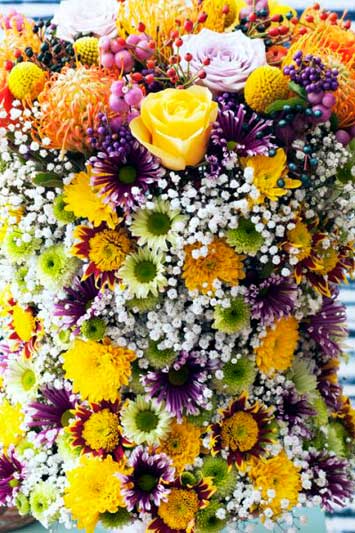 Chrysanth flower, symbol of autumn
A 'golden flower' for warmth, color and happiness in your interior. In China and Japan people for centuries are one big fan of the chrysanthemum. Absolutely right! Because this 'golden flower' brings warmth and color, shines in each bouquet and is also very long lasting. That is not only very very fine to put on the table, but is equally also a lot of fun to give as a flowery present!
Chrysanthemums are in an unprecedented wide color palette. Choose color and enrich your home with chrysanthemums in warm golden, bronze or deep orange tones. Or go for subtile and quiet with chrysanthemums in shades of white, pink or purple. This beautiful bloomer is also available in various shapes: the spray, the fluff and the santinichrysant. At the latter are the flowers on the branched stem and they are much more compact. And as if that's not enough choice, there are also still many flower shapes: from single to multiflowery and spider to pompon form.
The tricks to enjoy your beautiful Chrysanthemums longer are a correct ambient temperature and ultra clean water. If there are bacteria in the water, your flowers will be spoiled a lot faster. So remove the excess leaves, so they're not spoiling the water. Fill the water regularly: chrysanthemums use a lot of water.
Do you also wish someone a long life with a beautiful Chrysanthemum bouquet of Flowers Rotterdam?
Peony, champion of all roses!
The beautiful Peony flower is a real seasonal product, that announces the summer. Peony flowers are only shortly available and thus very much wanted and beloved!
Peony Roses are something special. The bushes are lovely and vigorous with dark, glossy foliage and as spring warms to summer they become covered with huge, blousy blooms. Each flower is a work of art with layer upon layer of petals and a sweet and alluring perfume.
Some tips
When you buy Peony roses, watch the peduncles to be firm and the buds are ready to be opened. If you want to speed up the process, poor a little bit of warm (not hot!) water on the buds during a couple of days.
When you get married in these months, think of a georgeous Peony wedding with romantic perfuming Peonies! It will upgrade your wedding day even more!
Let us prepare a special Peony bouquet for you!
Lisianthus, lieflijke schoonheid
De Lisianthus is geliefd om zijn authentieke, natuurlijke bloem en de vele kleuren. Bovendien blijft de bloem lang mooi. Deze lieflijke schoonheid komt oorspronkelijk uit de Amerikaanse staten Texas, Nebraska, Nevada en Colorado. Daar groeide de Lisianthus van nature in rivierbeddingen en prairiegebieden. Omdat ze tot de familie van de Gentiaan behoort, wordt ze daar ook wel prairiegentiaan genoemd. In Japan is de Lisianthus verder veredeld; daar komt de naam 'Japanse roos' vandaan.
De Lisianthus is er in het wit, rood, blauw, geel, roze, paars, oranje en tweekleurig en in multicolor. In Nederland worden enkelbloemige en dubbelbloemige Lisianthus-soorten geteeld en elk jaar komen weer nieuwe soorten op de markt. Er is dus altijd een lisianthus die past in jouw interieur.
De lieflijke Lisianthus is tevens een krachtig symbool van waardering, dankbaarheid en charisma. Een mooi cadeau dus, ook om je liefde te tonen!
Tulpentijd!
Tulpen zijn echt sfeermakers. Van een enkele tulp in een bijzondere vaas tot een weelderig boeket. Deze veelzijdige bloem vult elke ruimte met een vrolijke, gezellige sfeer. De levendige uitstraling maakt de tulp tot de vrolijkste bloem van Nederland.
Tulpen zijn veelzijdig. Wist je dat er meer dan 1.000 verschillende soorten zijn? Elk met hun eigen karakter en stijl. Dankzij de grote variantie zijn de mogelijkheden om tulpen te laten stralen in je interieur eindeloos. Omdat deze vrolijke bloemen in de vaas nog wat doorgroeien, oogt een tulpenboeket nooit stijf of saai, het leeft altijd.
Om optimaal te genieten van tulpen, is een goede verzorging belangrijk. Kies allereerst een ruime vaas waarin de stelen ruimte hebben om eventueel nog te groeien. Snijdt vervolgens de stelen schuin af en zet de tulpen in een klein laagje koud water. Dat het geven van een speldenprik onder de bloemknop voorkomt dat tulpen gaan hangen, is een hardnekkige fabel. Dit is juist slecht voor de bloem. Tulpen kunnen ook slecht tegen zon en warmte, zet de vaas daarom niet op een zonnige plek of bij de verwarming.
Wil je een tulp gebruiken in een bijzondere gebogen vaas? Zorg dan dat je de bloem een nachtje geen water geeft. Zo wordt de steel slap en kun je hem in de gewenste vorm buigen. Geef hem vervolgens gerust weer water: de steel behoudt zijn gebogen vorm.